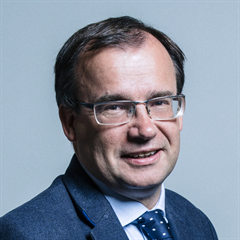 Gareth Thomas MP
Labour (Co-op)
---
In June 2017, More United members helped to elect Gareth Thomas as MP for Harrow West, voting to give him a donation of £10,000 and volunteer support.
At the end of 2018, Gareth approached More United with a project. He wanted to gain a better understanding of how the views and concerns of his constituents have changed regarding Brexit, since the EU referendum.
More United's Members voted to support Gareth with a project designed to find out what his constituents thought mattered most in the Brexit negotiations. As a result of that project, Gareth is now officially backing the campaign for a People's Vote to approve, amend or reject the final deal.
He's taking this position having listened to his constituents and combined it with his own expertise as an MP, an approach that is at the heart of More United's values.
Gareth said:
"I've really enjoyed working with More United on a whole range of issues, from championing actions to support the NHS, to support for a strong future relationship with Europe and other issues. In particular, I am grateful for your support for my ongoing discussions with constituents on Brexit. As a result, I am now championing a vote on the final deal.

Thank you to all the More United volunteers who have helped me promote the events, or came along to attend. And thank you as a More United member for giving me your support."
More United provided the donation and volunteers that made it possible for Gareth to meet people all across his constituency, bringing together people from different parties, backgrounds and levels of engagement to have genuine conversations. This is a project that put More United's values of democracy and tolerance into action.
Here's how More United's donation and people support was used:
Printing and delivering letters to almost every constituent
Hiring accessible venues across the constituency for the events to be held in
Leafleting to raise awareness about the events in the local area
Join More United, together we can make a difference and change the way politics works.
---
Campaign Updates
3rd December 2018
MU supporters vote to support Gareth Thomas MP's listening project
In an online vote 85% of MU supporters were in favour of supporting Gareth's project
3rd December 2018
Gareth met people across his constituency
to listen to their concerns about Brexit
3rd December 2018
MU volunteers raised awareness
Supporters hit the streets to share information about Gareth's events with Harrow residents
1st March 2018
Gareth said
"I've really enjoyed working with More United on a whole range of issues, from championing actions to support the NHS, to support for a strong future relationship with Europe and other issues. In particular, I am grateful for your support for my ongoing discussions with constituents on Brexit. As a result, I am now championing a vote on the final deal. Thank you to all the More United volunteers who have helped me promote the events, or came along to attend. And thank you as a More United member for giving me your support."